Marlin 790 dynamic

MARLINS 790 Dynamic

Saver 22

the best

NIGHTLIFE
Attractions
Cres na pijatu/Taste of Cres
Dear guests!     Visit the island of Cres from April 29 to June 4 and get to know the top local foods, enjoy Cres lamb and cheese, guided tours of olive groves and bee oases, tasting of traditional sweets and top seafood...
read more
Summer 2023. is almost here.. Be sure to book Your boat on time!!
Dear Guests!! Book your ideal boat on time! The sooner you decide to confirm your booking, the more likely you will be to get the desired boat in the desired time. Choose one of the boats from our offer and contact us with...
read more
News
News about events, concerts, fairs, shows and other informations about the Island Cres and town on Island Cres.
NEW Marlin 790 Dynamic-red 2023
This Year, we offer You new Marlin 7960 Dynamic-red ,250 ps  Any other choice would be a compromise, so book your boat for summer 2023.
read more
Cres Sail 2023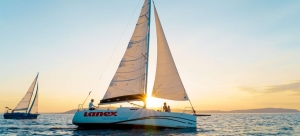 Simply put, we provide you with an  unforgettable experience  of sailing around  island Cres , one of the last oases of  untouched nature  on the Mediterranean. Sail away on our sailboat which is perfect combination of comfort and...
read more